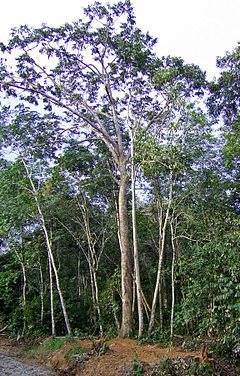 access_time05 Mar 2018
label_outlineInfo
Red Lauan / Meranti
Red Meranti is the name of a kind of carpentry that is popular in trade. Different types of meranti wood are produced by the Shorea clan of the Dipterocarpaceae tribe. About 70 species of this genus produce red meranti wood.
Meranti is a class of hardwood and lightweight (medium-weight). The weight is +/- 0.3 to 0.86, while the water content is 15%. The characteristics of meranti wood is to have pale pink wood terraces, red easily brownish or brownish-brown. For older reds the weight is heavier than the pink.
Red Meranti is one of the most important woods in Southeast Asia. This wood is commonly used as construction wood, wood panels for walls, attics, bulkheads, furniture and furniture, toys, coffins and others. Heavier, dark red meranti wood is used for medium to heavy construction, beams, rafters, door frames and windows, floor boards, bridge decks, and for making boats.
The Red Meranti group has +/- 70 species of Shorea, found mostly in Kalimantan (62 species), followed by Sumatra (23 species) and Malay Peninsula (19 species). Outside these areas, red meranti are also found in Southern Thailand, the Philippines and the Moluccas.